I, Taher Kameli, am an Iranian-American lawyer and entrepreneur. I received my Juris Doctor degree in 1996 and became a member of the bar of the State of Illinois in 1996, Washington, D.C. in 2006, the State of New York in 2007, and the U.S. Supreme Court in 2000. I started my legal practice in 1996 and opened the Law Offices of Kameli Associates, P.C. in Chicago.
Early life and education
I was born August 9, 1972, in Tehran, Iran. My family left Iran in 1986 to Istanbul, Turkey. In 1988, I moved to the States to pursue a life with better opportunities through better education. I received my Bachelor of Science degree in Biology from SUNY Stony Brook University at Stony Brook in New York in 1993.
My interest in international relations, equality, and justice led me to pursue a career in law. I still remember when coming to Topeka, Kansas from New York City, speaking English as a second language, and adapting to law school, he at times felt overwhelmed. After graduating from law school at Washburn University in Kansas, I moved to Chicago in 1996. Later on, I decided to offer summer internships to Washburn Law students in order for them to experience first-hand practicing law in Chicago.
Legal Career
Since 1996, after passing the Illinois bar exam and receiving my law license, I have practiced law focusing in immigration law (kameli.com), and business & corporate law (kamelilawgroup.com).
Throughout my legal career I as an attorney and legal team of the Law Offices of Kameli Associates have represented many clients from around the globe in their immigratio matters. Our legal team has significant experience and a proven track record of success in immigration, primarily focusing on EB-1, EB-2, EB-5, L-1, and E-2 Visa as well as family immigration.
Furthermore, I with the legal team began working on a free public education system with parents of special needs children to secure their rights. He has always had a passion for helping children with special needs in his life.
         Writ of Mandamus
Throughout my career, I have brought multiple actions for a Writ of Mandamus representing the interest of our clients,  against the United States, including matters involving immigration and constitutional cases, as a tool that the immigrant community can rely on when USCIS unreasonably delays in performing its duties.  Taher Kameli, IIUSA (8 August 2013), "USING MANDAMUS AS A TOOL IN EB-5 ADJUDICATIONS", IIUSA
         Trump travel ban
In January 2017, representing one of our clients, I, Taher Kameli, sued President Donald Trump over his controversial executive order restricting Trump travel ban from seven Muslim-majority nations. As a result of the lawsuit, Kameli's client was able to enter the United States. Meisner, Jason (1 Feb 2017), "Two lawsuits in Chicago challenge Trump travel ban", Chicago Tribune  ;
Grimm, Andy (1 Feb 2017), "Confusion marks first week of Trump immigration ban", Chicago Sun-Times
        CFIG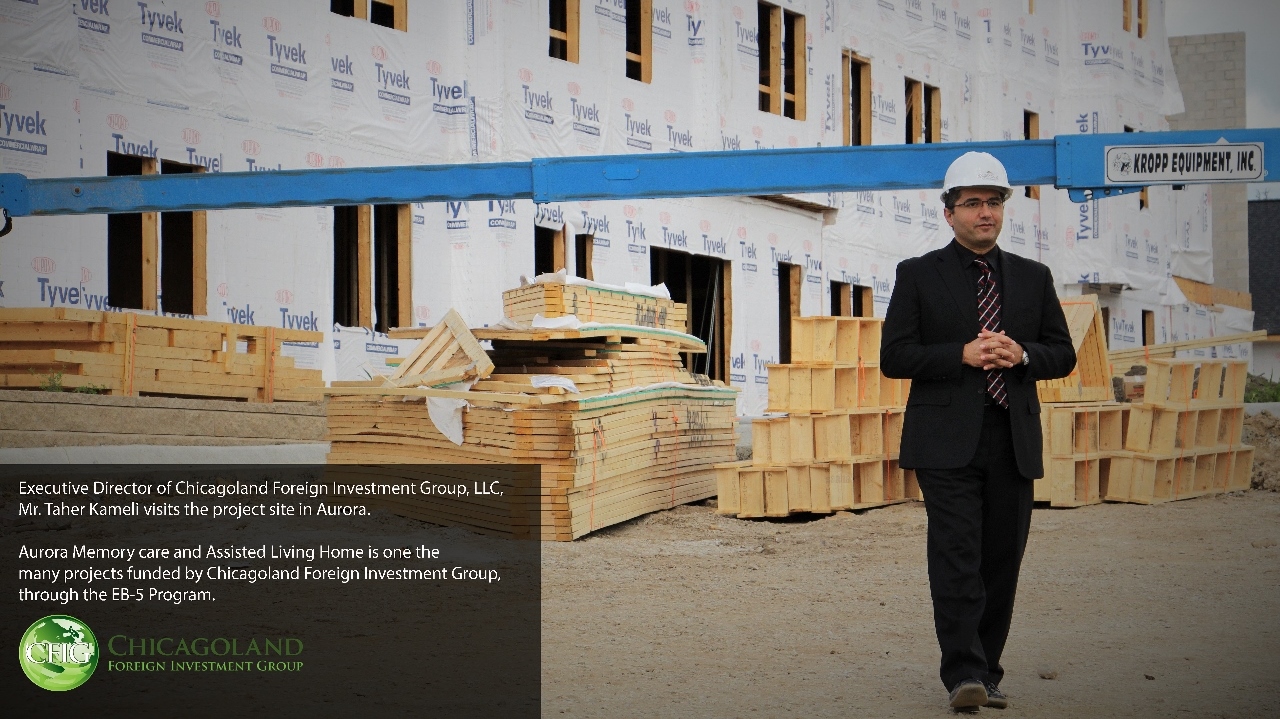 Since 2009, I am an executive director of Chicagoland Foreign Investment Group (CFIG) (chicagoeb5.com), a company that was designated by the United States Citizenship and Immigration Services("USCIS") to attract foreign capitals to the United States of America and create jobs for the American workers. CFIG, introduced an investment model for EB-5 investors that gives the investors an installment option. Instead of depositing the full then-$500,000 in escrow the investors could choose to deposit an initial investment installment to start the EB-5 process with USCIS, and then deposit the remaining investment funds within certain timelines designed to meet EB-5 requirements and provide flexibility to the EB-5 investors. Zeuli, Kim (Jun 2014), "Increasing Economic Opportunity In Distressed Urban Communities With EB-5" (PDF), ICIC
From 2009 to 2016, I was able to facilitate the foreign investment of over one hundred million dollars for U.S. businesses and created hundreds of jobs in the United States. Olivo, Antonio (22 Dec 2010), "Wealthy investors seek quick path to U.S. residency", The Seattle Times
I  have been invited many times throughout mycareer to be a speaker at conferences and workshops related to investment and immigration all over the world to speak about immigration and corporate laws in the U.S.
Here are some of them that come to my mind:
the Shorex Wealth Management Forum Geneva in Geneva, Switzerland, in 2009;
 2012 Southern California EB-5 Conference in California, USA, in 2012;
OVERSEAS FUNDING (EB-5 & FDI) WORKSHOP in Florida, USA, in 2012;
Annual Seminar on Immigration, Business and Investment across the Globe, in Istanbul, Turkey, in 2019.
I always enjoyed to share my knowledge and experience in investment immigration to the United States as well as business and corporate law in the U.S.
With pandemic, number of conferences have reduced and i keep sharing my knowledge in my social media channels:
Instagram taherkameli , tkameli